Internet Filtering and Accountability
If you want to do well in recovery, you have to deal with your computer.  You can't get sexually pure without some safeguards on your computer and your mobile devices. 
Blogs and Information on Internet Filters and Accountability Software
7 Reasons Why Your Internet Filter Isn't Enough
from porntopurity.com
Why choose "accountability" software?
from Covenant Eyes.com
GREAT OPTIONS FOR FILTERING AND ACCOUNTABILITY SOFTWARE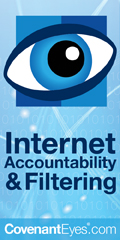 Covenant Eyes
We are proud to be affiliated with Covenant Eyes!  They have allowed us to offer you a Free 30-Day trial of their software.  in our opinion, it's the best on the market.  They have great filtering software and accountability software. CLICK HERE for a free 30-day trial of Covenant Eyes, and type in the code PURITY when you check out. 
Take this important step and shore up your computer with some filtering and accountability.
Safe Families
Safe Families assists parents, churches and computer centers in protecting children in at-risk communities from pornography and other dangers on the Internet. Safe Families also seeks to empower urban pastors, other leaders, and individuals by providing help for adults and teens struggling with pornography and other media addiction.
beSecure
Protect your family, computer, and/or small business with Bsecure's award winning CloudCare online family protection software. It is extremely fast, accurate, and automatically updated filtering plus anti-virus protection.